Exposing the invisible value - ZigmaData
Bringing the best in class data access pattern for a flawless and future ready sustainable information platform.
Connect
with us for more.
Provisioning data via any interface is our first goal. Otherwise unreachable data, with a myriad of technologies like JDBC, ODBC, OData, REST, Kafka, SOAP, Spark and Flink and so on, data you want finds the path, fully powered by distributed computing where needed
Unified, re-usable and virtual layer which powers all your imagination with data. Backed by a cloud agnostic open source S3 engine, scaling petabytes is just norm. Utlizing the latest trends with NVMe and RDMA based architecture, you have the option to turbo power the compute
This section handles unlimited, durable, elastic, and cost-effective  method for storing data. By keeping an object store along with the compute, we achieve maximum efficiency and avoid network latency, providing the best throughput. We use Arrow format for avoiding CPU and time consuming serialization and de-serialization complexity
The most sophisticated user interfaces powered by open sources and customization, without zero involvement from IT. Business is empowered with rich set of tools to drive value from billions of rows of data, thanks to our 'apriori' unification engine
Presenting ZigmaData - Our Data Platform Ingredients
The comprehensive set of products, tools and services for cloud and on prem
Getting value out of your data is more important now than ever before. As needs for data insights increase, many organizations are facing fragmented data environments and warehouses with multiple technologies—often on multiple cloud vendors. We help to optimize your data workflows right from ingestion, transformation, storage, visualization. model development and comparison and archival
In today's data deluge, only digital insights—information about customers, products and business environment refined into meaning—can generate the actions you need to win, serve and retain customers who demand firms to treat insights—not just data—as a business asset. With the most modern tools and advanced algorithms we keep you cutting edge with REAL TIME capabilities
There is no such thing as data not being used frequently; given the requirement for   "all data all the time", every piece of information is valuable. With modern strategies and architecture, our solution utilizes columnar compression to store huge data cost effective and yet still accessible as hot data.
We use machine learning, neural networks and AI with the help if IoT devices where relevant to help understand customers, drive personalization, streamline processes and create convenient and memorable customer experiences. Powered by ultra modern unified compose engine, disparate data is used to generate a more accurate view of real-time context and next likely action
State of the art, robust suite of integrated products to enable the enterprise with corporate analytics and tooling combined with governed datasets for Modern BI and AI. We promise infinite scalability, productivity and sustainability through our connect-compose-consume paradigm to cope up with any metric providing cloud agnostic , on premise and service based offerings

Our unique data solutions are tailored to make gap between digital and physical wold less. They are made with light weight footprints and now start gaining momentum through IoT devices and services. Coupled with innovative partners, the solutions are available for various use cases ranging from home needs to healthcare.
The only one missing data pipeline in the industry
How ZigmaData Works
Connect : Define the Data Sources
Any kind, any volume or any variety through simple configuration and deploy


Thousands of functions to choose from and define your ETL and configure the scheduler
Compose : Configure the transformations
Compose : Configure the transformations
Thousands of functions to choose from and define your ETL and configure the scheduler

Consume : Visualize using drag and drop
A fast indexed data store powers your visualizations


Code your algo with R , Java, Spark or Python
Consume : Apply Machine Learning and Analytics
Consume : Apply Machine Learning and Analytics
Code your algo with R , Java, Spark or Python

Compare : Compare your models
Select your best performing model

Making Sense of Your
Data is Never So Easy
An end to end flow of your data with all access controls and audit features
Ability to extend custom function add-ons as per organizational needs
Ability to look at history and rerun the flows
Mostly built using open source and integrated intelligently
Powered by open source S3 based storage, to enable any cloud migration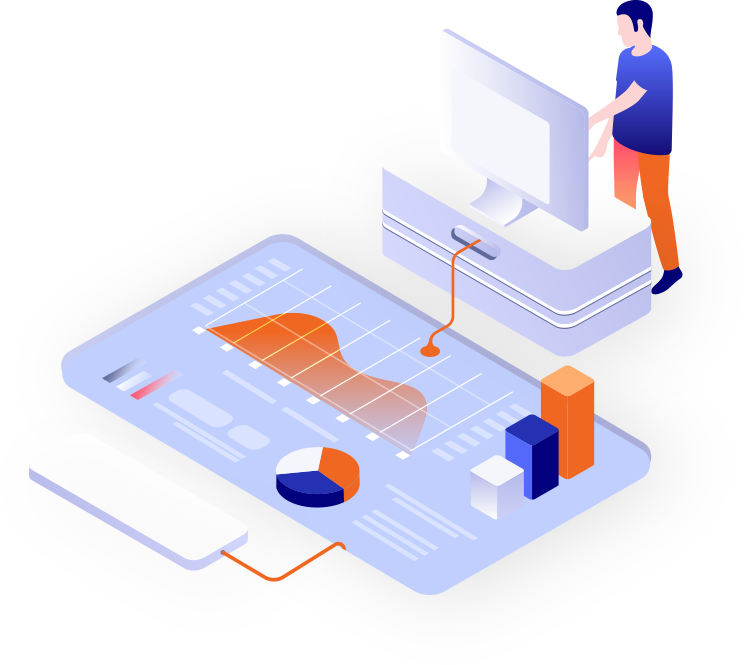 Connect with Us
For a Demo and Discussion
We are glad to showcase our use cases and demonstrate the capabilities. In a matter of an hour, you will be able to appreciate the power of data engieering